Network Assessment
Have one of our technical specialists make a thorough analysis of your environment. The result will be a very clear understanding of the state of your environment, where your vulnerabilities are, the best way to mitigate them, as well as where your strengths are and how to maintain them.
What We Do
Not having a detailed understanding of the state of your network is like driving without a map. We'll come to your office and conduct our proprietary 27-Point Risk Assessment to not only determine the health of the systems on the network, but also to assess other security, backup and efficiency factors that could be costing you in productivity and hard dollars.
Once we have a clear picture on the state, health and performance of your current IT systems, we'll then deliver a customized IT Optimization plan that will show you how to eliminate every single nagging problem, enable you to work faster and easier and lower IT costs wherever possible.
What You'll Learn
After conducting a Network Assessment, we'll be able to answer your top questions, such as:
Are your IT systems truly secured from hackers, viruses and rogue employees?
We will look at you internal and external security devices and any policies you may have in place and detail where the vulnerabilities are and how to correct them.
Are your backups configured properly to ensure a rapid recovery in the event of a disaster?
Are you unknowingly in violation of the new New York data breach laws?
Could you utilize more efficient cloud technologies to lower costs and enable working remotely?
Are your systems optimized for maximum speed and performance?
Result Categories
Using the analogy of the boiled frog, we have four categories we use. What is the boiled frog? It is a parable, or sorts.The question is posed: how does one go about boiling a frog? If you were to drop it in a pot of hot water it'd spring out with one quick hop. BUT, if you place it in a pot of cool water and slowly raise the heat,soon enough you'll have boiled the frog. Same as when an organization doesn't invest enough into maintaining it's infrastructure and technology, slowly but surely, acclimation to degradation, or boiled frog, happens.
Below is how organizations generally evolve into each category.
Cool Waters
At some point the computers were new and fast. The server was just installed and the internet speed was the fastest DSL available. Email flowed easily and all the necessary applications reliably functioned. Staff felt like they had the right tools to do their job.
Getting Tepid
Lulled into a sense of false security, the network and systems are not maintained allowing them to degrade in performance. When system issues occur staff are referred to the youngest staff member, with the assumption that they would be able to resolve it.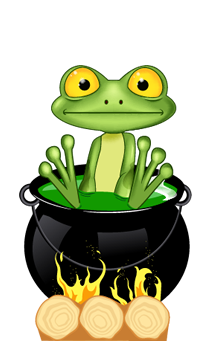 Warmer Still
The systems, and the network as a whole, have now been neglected so long that they present constant hurdles to the staff, who now feel like they need better tools and support. The Tech Guy they call often takes too long to respond and the fixes never really stick. Morale starts to dip.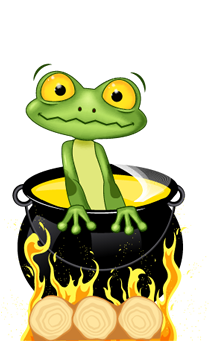 Rolling Boil
The once new systems are now a collection of boxes held together with band aids and work arounds. The Tech Guy may have installed pirated software in a misguided effort to save money. The staff is constantly frustrated and are very vocal about it.