Phishing scams are not new, but they are constantly evolving and if you are not perpetually suspicious of the contents in your email box you can easily fall prey. I've had multiple email addresses at a time since 1995.
I've been electronically approached by Nigerian princes, Chinese dissidents, Canadian heirs and a host of other generous and in need of "just a little help" global characters. And since I've been around this block since they poured the cement, I know how to spot a scam pretty quickly. But this one, this email got me as far as hovering over the image, ready to click and enlarge the image to read the scrawl on the "wire transfer" receipt.
I was not expecting a wire transfer, have never had any money wire transferred to me, had no reason to consider this a valid email. But the image was compelling. I wanted to see to whom the wire transfer was supposed to go, as surely the receipt will have that information. I was a finger twitch away from all bringing in all means of data thieving, account hacking menace to my system and, quite possibly, network. It was only when my reflexes kicked in and I took a look at the URL of the link that was attached to the image. When I saw that it did not match the domain from which the email came, I knew it was a scam, snapped out of my delirium and verified it was a hoax when I tried to view the website of the company which I derived from the "from" email address and found a blank site.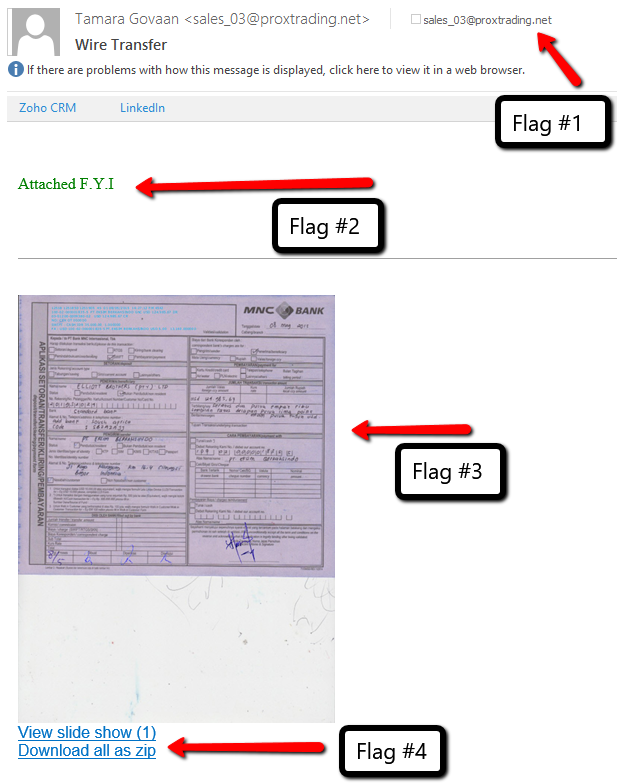 I should have known better, but curiosity almost got the best the of me. Good thing two decades of experience kicked in. So here are a few tips on how to spot a scam:
1. An impersonal email address like This email address is being protected from spambots. You need JavaScript enabled to view it. or This email address is being protected from spambots. You need JavaScript enabled to view it. or odd mix of letters and numbers. Something that does not resemble a human's name.
2. Very few words in the email, often written with poor grammar.
3. Small images of hard to read documents that are linked to a strange website.
4. And of course, .zip, .exe or any other attachments from unfamiliar email addresses.
5. Another flag not seen in my example is when the email text is in black letter and then there are grey, almost white letters, and hard to read text in the email.
Next time you get an email from a suspicious source, and no, FedEx will not email you about a package you were not even expecting, save yourself a heap of trouble and just junk it straight away.